About us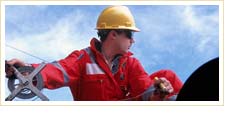 Sea Site International based in Qatar is a global player in Oil & Gas supplies, Building Materials, Engineering, contracting, manpower having operations in construction, plumbing and electrical segments of the industry.

Sea Site International was incepted with its corporate headquarters at Doha, Qatar.as a professionally managed company creating and delivering services that enable our clients to have the leading edge in the ever changing world of work. The main activities of the company are spread out in diverse industries like Contracting, Maintenance, Manpower Supply, Trading etc.
Through relentless, never-ending improvement in quality, Cost, Technology and services, we are geared to satisfy the ever- increasing needs of our esteemed clientele. Within a short span of time we have earned a niche in the local as well as international market through our ability to procure materials from anywhere in the world at a reasonable cost. We believe in representing and distributing only the best manufacturers that possess leading-edge technology, strong warranties, financial stability, and successful track records.
Sea site International supplies manpower to various Government bodies, Public Corporations, International Companies and other Small and Medium Scale Industries. Our management with extensive skills and experience in various industries has made the company to grow into a major manpower supplier in Qatar. Adapting speedily to the changing markets the ong-standing success of our company relies heavily on our ability to comprehend future trends, and execute projects with the expertise, safety and quality we have become known for.

Sea site International offers a comprehensive range of expertise, from the early stages to the completion of projects and beyond, including engineering, construction, maintenance and operation. As a specialist in facility management, Sea site International provides its clients with a complete range of services covering all multidisciplinary maintenance operations.